What Materials Are Used To Replace My Post And Beam System In My Basement?
When deciding to replace deteriorated post and beam systems in a residence, count on an unusual learning process. Don't expect to ask your neighbor's advice over the backyard fence. You're doing something that is only needed every 100 years or so –  and then only by the owner of a very old home! Most people are never involved with the process and are only vaguely familiar with it.  But, with the often high price tag, some due diligence is advisable. Hopefully, this blog will help explain much of what is involved.
Older post – beam – footing systems that form the intermediate structure (structure other than foundation) in a residence were installed when building standards were fairly loose. Sizing and building methods were often decided over a sketch on a napkin. When replaced these systems need to be brought to modern standards using span charts, current codes and load calculations. A structural engineer is involved in all but very rural projects.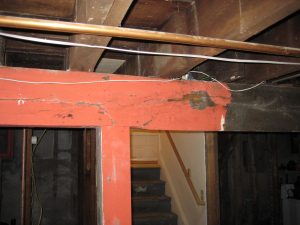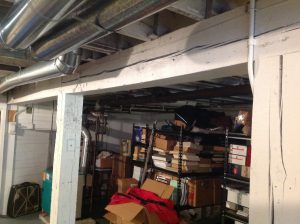 At Brad Scott Construction our most common project is the replacement (partial or full) of a failed post – beam – footing system in a 1-1/2 story home with approximately 1700 square feet of living space including a partially finished or unfinished basement. There are thousands of homes in the Twin Cities area that fit this description. Although we are involved in many other types of projects,  let's use this type of project as an example.
Typically the house involved was built in the first 20 years of the 20th century using beams that are between 6-8 inches wide and 8-10 inches tall. Wooden columns approximately 8 inches square are spaced at 6-8 foot intervals along the length of the beam. The ceiling height in the basement is usually approximately 7 feet. Footings under the columns are often approximately the size of a five gallon bucket, often tapered inward at the bottom (bad idea) due to a shovel operator who wanted to finish up and get on to other things.
Failure goes this way:
The beams crack and deflect (sag).  The columns rot at the bottom, crack and bend. The footings, tapered at the bottom to form the shape of a large arrowhead, drive into the ground under the load they are carrying. All of this leads to the floors on the first level sagging in the middle as they follow the beam downward. Replacement of structure and leveling of floors are called for.
In the typical house, we have included in this example new beams made of engineered wood will need to be 11-13" deep, creating an unacceptably low head clearance. Most customers prefer steel beams. A bit more expensive but the clearance justifies them. The smaller sized steel beams are also less likely to interfere with existing mechanical systems and thereby eliminate the need to relocate them. Columns are usually steel and footings are nearly always reinforced concrete, sized by a structural engineer to allow for the load the house will put on them. A visit by the engineer after an initial session with the contractor will help with measuring the house and sizing structural components.
It is always best to consult with the contractor first, prior to engineering. Two good reasons:
the contractor's first visit will be free (easy to like!)
the contractor can discuss pricing with you, and you can see if it fits your budget before you start spending on the project. Engineers generally will create a design intended to invite bids from contractors, which involves spending before you know the project is affordable to you.

So when do you call us?
you look across the table and your kids are tilting by 15 degrees
you take your kids into the funhouse at the state fair and they don't notice anything unusual
you eat soup half a bowl at a time or it will overflow
You get the idea.
We would be glad to take a look at your posts and beams and recommend solutions. Our first visit is free. We have been doing this for 42 years and we have become really good at it.
We look forward to hearing from you.